Tractors are a necessity for farmers, but kids love them too! That's why a tractor birthday party is a great idea if you have a little one in your life that loves farm equipment. A gathering like this can be put together in a multitude of ways, regardless of if you prefer to focus purely on the John Deer brand or if you'd like to focus on the farming aspect. Picking your theme drills down the options for the party supplies.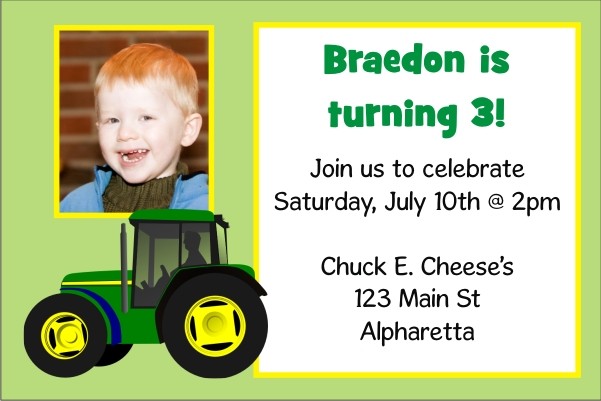 You'll also want to consider the activities and games that the kids will play at your tractor birthday party. A petting zoo is a fun idea if your budget allows for it. You should also consider classic activies like face painting, pin the tail on the donkey or even a pinata! There are literally a million awesome things you can plan for the party. For decorations, consider using green and yellow decorations to tie in with the John Deere brand. You can purchase bales of hay from your local farm supply store for an authentic look and feel! To set your party over the top, rent a real tractor as a prop! Take a picture of each kid on the tractor, print them, and send them home with the kids as a super adorable party favor! The kids and parents would love that and will remember how awesome your party was each time they look at the photo of their child on the tractor.
Sure your kid loves the tractor party idea, just wait until you begin putting together this celebration! There are an abundance party decorations for you to select from, so it's simple to plan the event. You can select from the plain or the custom party supplies. There are tractor birthday invitations so you can invite loved ones to cherish this memorable day with your friends and family.
If you're going to have a tractor theme party the first thing you'll need is tractor birthday invitations! And guess what? You've come to the right place for a custom tractor birthday party invitation. We have an adorable template that features a green and yellow color theme, the classic colors for John Deere tractors! You can upload a photo of your precious child to make your invitation extra special!
You can also add your custom text and choose fonts that fit your style and personality! It's super easy and fast to create a personalized tractor invitation online. Personalizedpartyinvites.com has the fastest and most convenient delivery options too! You can choose the Jpeg download option -- This option is great if you want to print your invites yourself on your home printer. It's also great for sharing on social media sites like Facebook, Instagram, Twitter or for sharing via email! Another convenient option is pickup at a pharmacy in your area. You can pickup your invitations in as little as an hour! Wow! If that's not convenient for you, we can print and ship your tractor birthday invitations to you! No other website offers quicker service!