A circus themed party is a great way to celebrate a loved one's birthday! Planning a great circus party doesn't have to be a chore. A few simple tips can make putting together a circus party as easy as pie!
The key is to allow ample time so you can prepare. Planning ahead is crucial especially when throwing a party with a circus theme. From the circus birthday party invitations to the cake, you need to have all of your ducks in a row to make sure everything goes smoothly. Use the tips in this article to help plan the perfect day for your child. It's actually easier than you think.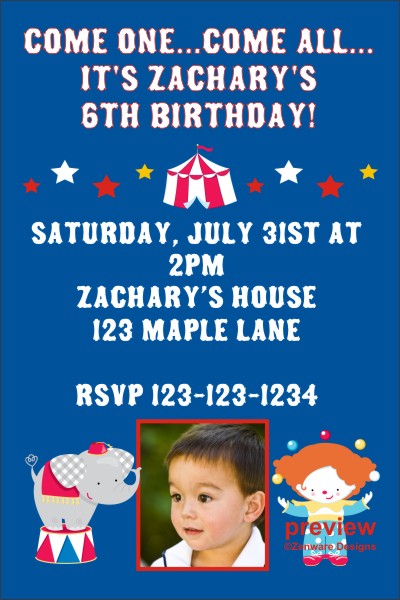 What you will need to do:
Choose a date and time for the party
This is the first thing you need to do. Check your calendar and find a date and time that works for you. The date should be on a day that most of your friends and family will be available. Weekends are ideal. The date you select should be at least 8 weeks in the future.
Choose a venue
After deciding on a date and time, it's time to choose where you will have the party. Most circus themed parties are held at home. If you're going to have it at your home, make sure you have plenty of room! When going with another venue, ensure they have your date and time available!
Purchase Invitations
You should buy circus birthday party invitations only after you have finalized the date, time, and location of the party! The invitations should include all of the pertinent information like the date, time, location and RSVP details. Send out the invitations no later than 6 weeks in advance. This allows your guests ample time to plan to attend.
Plan party activities
Face painting, dunk booths, and apple bobbing are examples of activities that you may see at a circus themed party. You may also want to hire a clown to tie balloons into fun shapes. Keep in mind that some of your guests may have a phobia of clowns!
Food and cake
You'll want to offer your guests food at your party. Popcorn, cotton candy, peanuts, and hotdogs are great foods for a circus party! And don't forget the birthday cake! Or if you prefer, you could offer cupcakes in lieu of the birthday cake. Cupcakes are a hot trend in parties right now.
Organizing a circus celebration is nothing to be afraid of. With a little bit of pre-planning, you can take the headache out of the situation. Just remember to allow yourself enough time to do each of the steps outlined above. As a result of you following the easy tips, you and your guests will have a day full of fun and joy at your circus party!
For the history of circuses, check out http://en.wikipedia.org/wiki/Circus