You know that Personalized Party Invites offers an amazing selection of birthday party invitation templates that you can customize online. But did you know that many of our invitation templates are available as an instant digital, printable jpg file download? Printable invitations are great when you are in a time crunch and would like to print your invitations yourself using your home printer.
We're going to show you how to print your 4x6 jpeg invitation using your home printer. Since your printer may be different from ours, you may need to consult your printer manual or the manufacturer for more specific instructions.
Step 1 - Save the file to your computer
After you purchase a digital file, you will receive a link to download your file. Click the link to open the image. Right click on the image and select "Save image as..."
Save the image in a folder, that 's easy to find, like the Desktop.
Note: Don't print directly from the web browser!
Step 2 - Open the file in Windows Photo Gallery
Locate the folder where you saved the jpg file. Right click on the file and select "Print".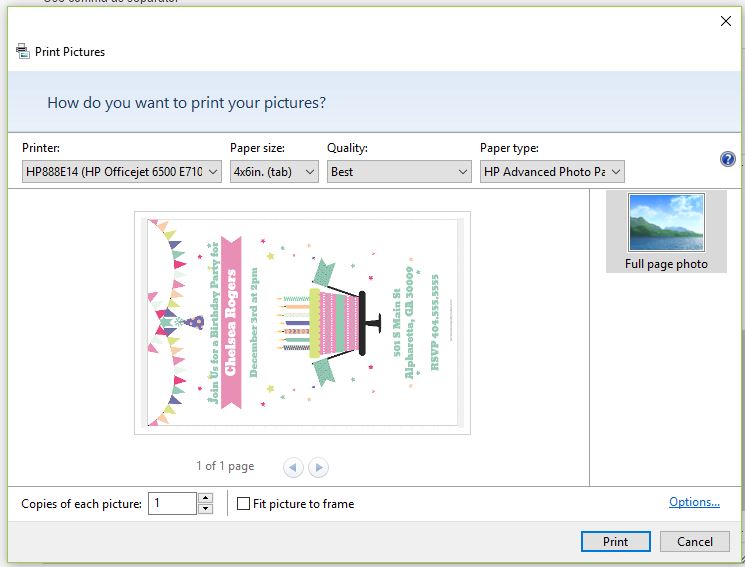 You will see something like the above.
Be sure to select the correct options at the top of that screen (Under where it says "How do you want to print your pictures?")
Select the correct printer
Select the correct paper size (4x6)
Select the desired printing quality
Select the paper type you are using
Clicking "Options" at the bottom right side of the screen will give you advanced options and allow you to fine-tune your printer settings.
Step 3 - Print
After you have chosen the desired settings, click the "Print" button and you're done!
Looking for cute, unique printable party invitations that you can print yourself? Click here!