1. Login to your account at order.personalizedpartyinvites.com
2. Click "to print", "in print" or "shipped"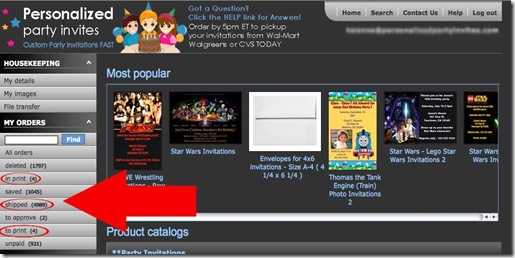 3. You should see your design, click the "JPEG" link that's above it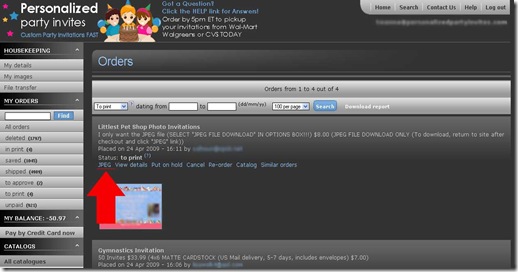 4. The image will open in a new window. Right click on it and choose "Save Image As…" to save it to your hard drive.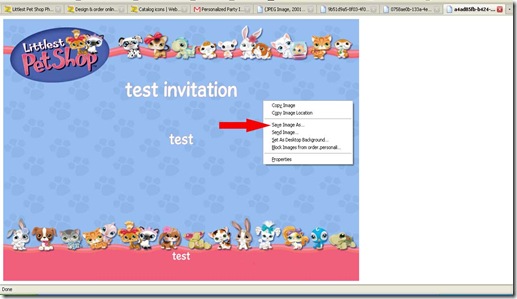 5. Type in a filename and add .jpg to the end of the file name. Example - myinvitation.jpg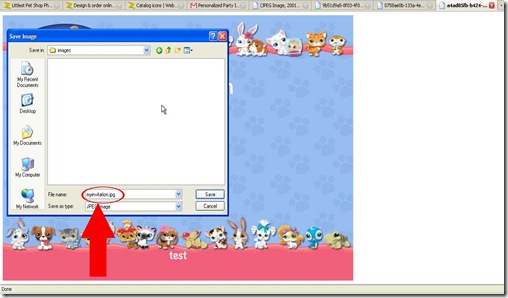 DO NOT PRINT THE FILE FROM YOUR WEB BROWSER!!! Open the file using a photo editing software (You can use Windows built-in image viewer/editor, or "Preview" if you're using a Mac). You will need to change your software and printer settings to print on 4×6 paper.
NOTICE: If you selected "JPEG file only", we will provide you with the file only. You are responsible for knowing how to print 4×6 photos using your home printer. Due to the numerous printers and photo editing software available, we are unable to provide printing support for "JPEG file only" customers. If you are not familiar with printing borderless 4×6 photos using your home printer, we suggest you use our printing service or take the file to a photo lab to be printed. We generally do not refund "JPEG file only" orders.